Golda Meir's Yom Kippur letter to bereaved families has been discovered
EST 1917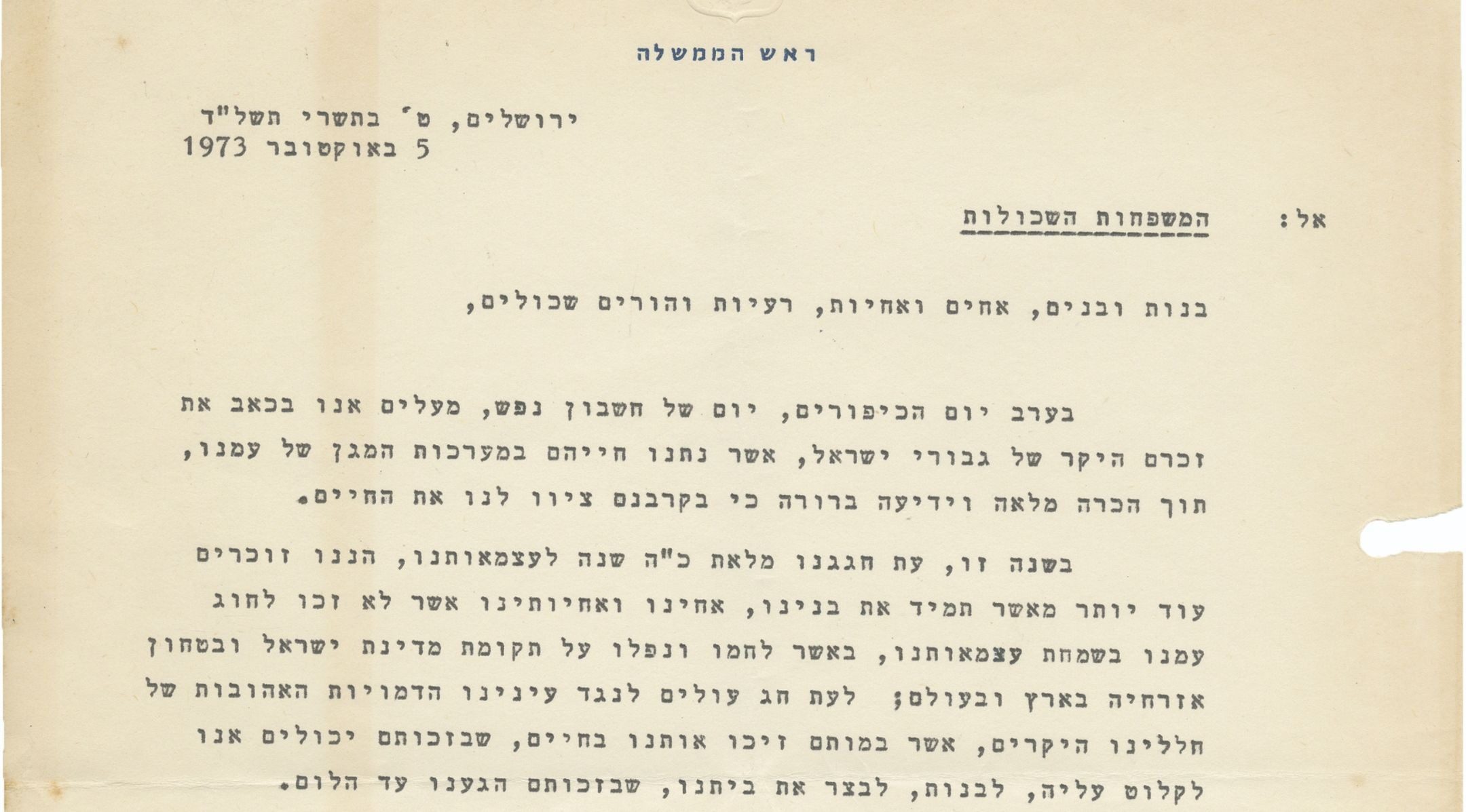 Detail from Golda Meir letter to bereaved families sent on the eve of the Yom Kippur War. (Kedem Auction House)
JTA) — A letter of condolence to bereaved Israeli families written by then-Prime Minister Golda Meir on the eve of the Yom Kippur War has been discovered.
In the years following the establishment of the Jewish state, it was customary for the prime minister to have contact with the families of killed soldiers, including sending letters for holidays and official occasions. Meir was scrupulous about the custom and frequently corresponded with bereaved families both privately and officially.
On the eve of the Yom Kippur War in 1973, Meir sent a letter, dated Oct. 5, to bereaved families in which she wrote: "Your pain is the pain of the entire nation … Our main concern is  achieving peace for Israel. The memory of our loved ones motivates us to do anything in our power so that there be no more casualties, and we know no more bereavement."
A day later saw the outbreak of the Yom Kippur War, which claimed the lives of 2,500 Israeli soldiers.
Meir resigned in April 1974 amid public criticism and a loss of confidence in the government.
The letter will be offered for sale at the Kedem auction house in Jerusalem in December.
Maron Aran, an owner of Kedem, said in a statement that the letter "unexpectedly" came to the auction house in the run-up to Yom Kippur this year.
"It evokes, more than anything else could, the tragedy that the State of Israel suffered 46 years ago," Aran said. "A few hours after the Prime Minister shared in Israel's national mourning for the victims of previous wars, a new war broke out," adding thousands of families to the rolls of the bereaved.
BY MARCY OSTER Who by fire: 38,000 pounds of bagels burnt in truck days before Yom KippurOCTOBER 8, 2019 2:11 PM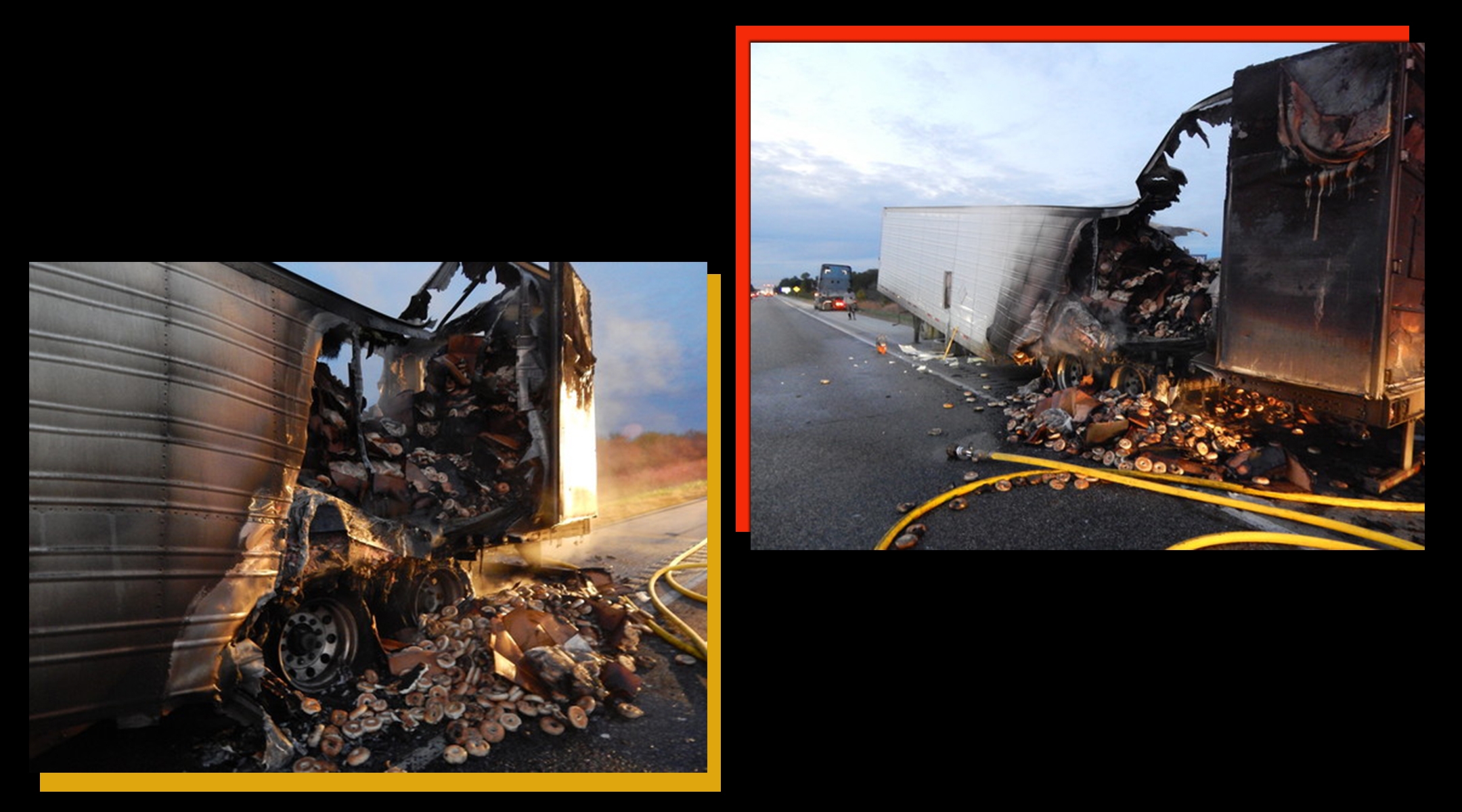 Tons of frozen bagel went up in flames when a semi's rear axle caught fire. (Courtesy of the Indiana State Police)
(JTA) — Midwest Jews may need to find something else to eat when Yom Kippur ends — tons of their bagels are now toast.
Some 38,000 pounds of frozen bagels met an unhappy fate on Sunday, just a couple of days ahead of the Jewish Day of Atonement, when they were burnt to a crisp in a truck fire. An Indiana state trooper noticed that a semi heading north on I-65, about 90 miles southeast of Chicago, was smoking heavily from the rear axle, according to a news release from the Indiana State Police.
The trooper pulled over the truck, but it was too late: The fire was spreading to the trailer, and the rear tires exploded, burning the break-fast staple. The driver, a Floridian, was unharmed. A Chicago-area company owned the truck.
The news release did not say where the bagels were from or where they were going, but it's safe to say that as we approach the holiest day of the Jewish year, some of them have become dust and ashes.
BY BEN SALES Canadian synagogue targeted with swastikas and anti-Jewish symbolsOCTOBER 8, 2019 10:30 AM
(JTA) — Drawings of swastikas and other symbols were drawn in chalk on the grounds of a Canadian synagogue in Ontario.
The drawings, which were found in four spots at Beth Jacob Synagogue in Hamilton, were discovered Saturday morning when the rabbi arrived for Torah study before Shabbat services, the Canadian Broadcasting Corp. reported. The graffiti also included the word Jews with a line drawn through it.
Rabbi Hillel Lavery-Yisraeli told Canada's Global News that surveillance camera footage showed four teenagers drawing the graffiti on Friday night.
The Hamilton Police hate crimes unit is investigating.
Lavery-Yisraeli said the synagogue hired a security guard after last October's attack on the Tree of Life synagogue building in Pittsburgh killed 11.
Hamilton Mayor Fred Eisenberger is scheduled to visit the synagogue during Yom Kippur services.
The Global News reported that hate crimes and hate/bias incidents reported to Hamilton Police in 2018 targeting the Jewish community rose by 25 percent over 2017.
BY MARCY OSTER Girl with degenerative brain disease celebrates bat mitzvah at LA hospitalOCTOBER 8, 2019 10:20 AM
(JTA) — A 12-year-old girl with a degenerative brain malformation celebrated her bat mitzvah at the Los Angeles hospital where she has spent most of her life.
Numa Beron was born with lissencephaly, which has left her unable to stand or speak. She was given three years to live, Cedars-Sinai Medical Center said in a statement.
"The Beron family are very fierce advocates for Numa," said Dr. Gary Goulin, associate director of the Pediatric Intensive Care Unit, who has cared for Beron for seven years. "It's clear they just love and adore her, visiting every chance they get and taking turns spending every night with her at the hospital."
Family, friends, former teachers and much of Beron's Cedars-Sinai medical team attended the bat mitzvah celebration, which included unicorn balloons and decorations, rainbow cupcakes and a video compellation of Numa's life.
A family Torah scroll was brought to the celebration, and Numa was able to put her arms around it.
"This celebration was a way to show appreciation to everyone in Numa's life," said Iliana Beron, her mother. "By the grace of God, we are here and celebrating this miracle and this beautiful day."
BY MARCY OSTER Sen. Lindsey Graham calls troop withdrawal from northern Syria a 'nightmare for Israel'OCTOBER 8, 2019 4:24 AM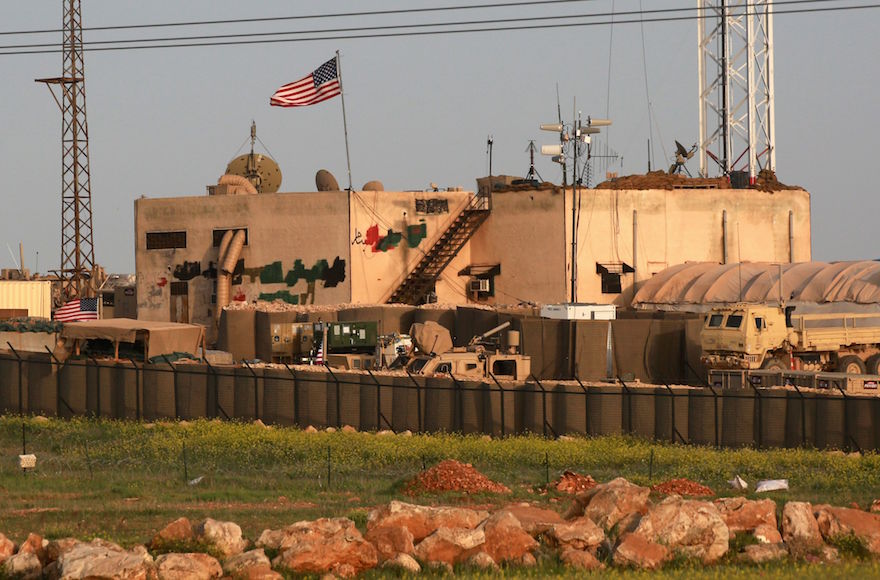 A view of a US military base in the al-Asaliyah village, between the city of Aleppo and the northern town of Manbij, in Syria, April 2, 2018. (Delil Soueiman/AFP/Getty Images)
(JTA) — Sen. Lindsey Graham of South Carolina said President Donald Trump's decision to withdraw U.S. troops from northern Syria will "eventually become a nightmare for Israel."
Graham, one of the president's staunchest supporters in the Senate, called the move "shortsighted and irresponsible" in a series of tweets.
"The most probable outcome of this impulsive decision is to ensure Iran's domination of Syria," he tweeted. "The U.S. now has no leverage and Syria will eventually become a nightmare for Israel.
"This decision to abandon our Kurdish allies and turn Syria over to Russia, Iran, & Turkey will put every radical Islamist on steroids. Shot in the arm to the bad guys. Devastating for the good guys."
The move came following a phone call between Trump and Turkish President Recep Tayyip Erdogan, who said Turkey would begin a military offensive in the area.
"Turkey will soon be moving forward with its long-planned operation into Northern Syria," a statement issued Monday from the White House said. "The United States Armed Forces will not support or be involved in the operation, and United States forces, having defeated the ISIS territorial 'Caliphate,' will no longer be in the immediate area."
Dennis Ross, a fellow at the Washington Institute for Near East Policy who served as a peace negotiator in the Obama, Clinton and George W. Bush administrations, criticized the move.
"Another Trump call with Erdogan, another impulsive decision for the US to withdraw," Ross tweeted Monday. "Good news for Putin and Khamenei who want the US out of a Syria. Turkey's deeper move into Syria will mean more refugees, ISIS can re-emerge, and the US betrays those who actually fought ISIS."
I don't believe it is a good idea to outsource the fight against ISIS to Russia, Iran, and Turkey.
They don't have America's best interests at heart. www.foxnews.com/politics/turkey-announces-incursion-of-northeast-syria-us-backed-kurds-have-vowed-all-out-war …
Turkey announces incursion of northeast Syria, US-backed Kurds have vowed 'all-out' warfoxnews.com
Lindsey Graham✔@LindseyGrahamSC
The most probable outcome of this impulsive decision is to ensure Iran's domination of Syria.
The U.S. now has no leverage and Syria will eventually become a nightmare for Israel.
1,0783:48 PM – Oct 7, 2019Twitter Ads info and privacy865 people are talking about thisBY MARCY OSTER Tens of thousands of Jewish worshippers pray at Western Wall on eve of Yom KippurOCTOBER 8, 2019 3:46 AM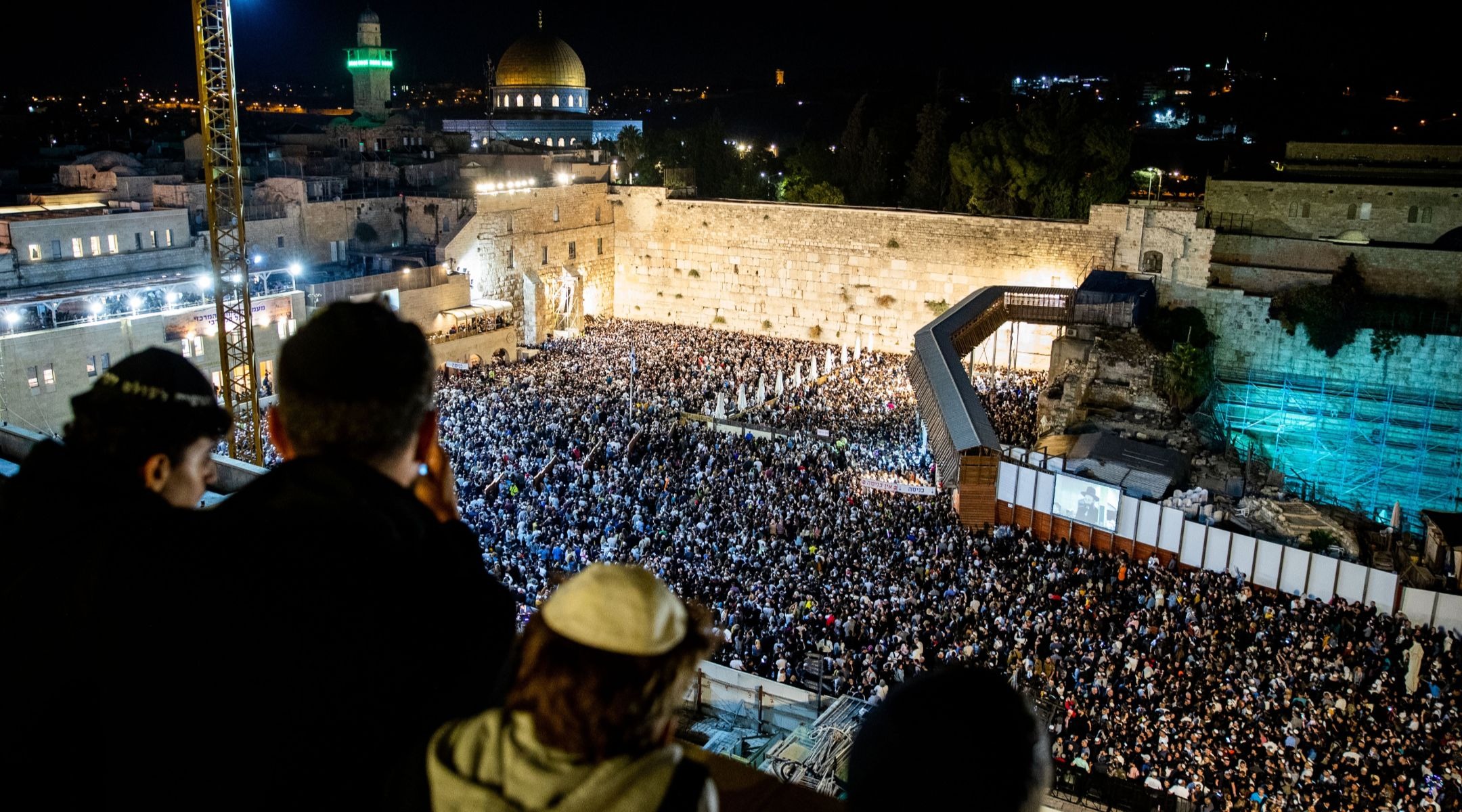 Thousands attend Selichot, or penitential prayers at the Western Wall in the Old City of Jerusalem early on Oct. 8, 2019, prior to the start of Yom Kippur. (Yonatan Sindel/Flash90)
JERUSALEM (JTA) — Tens of thousands of Jewish worshippers gathered at the Western Wall in Jerusalem for the final selichot, or penitential prayers, before Yom Kippur.
The services began after midnight on Tuesday morning, and brought worshippers from around the country.
Yom Kippur begins at sundown on Tuesday and lasts for 25 hours.
In Israel, the country grinds to a halt. All stores and shops close, and public transportation ceases until the end of the observance. Ben Gurion International Airport shuts down for the 25 hours of the holiday. Israeli television and radio channels and broadcasters also shut down their broadcasts until sundown on Wednesday.
Thousands of Israeli children and adults revel in the empty roads, filling them with bicycles.
BY MARCY OSTER Some 68,000 secular and religious Israelis to pray together on Yom KippurOCTOBER 8, 2019 3:28 AM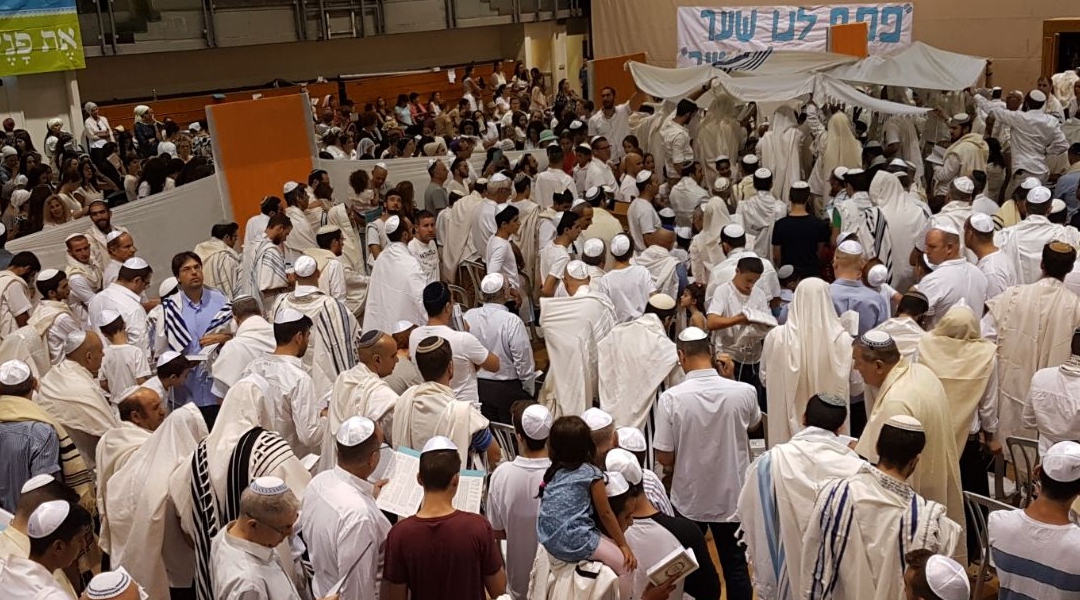 Secular and religious Israelis at the conclusion of Yom Kippur services in the community center in Kiryat Ono, near Tel Aviv. (Courtesy of Tzohar)
JERUSALEM (JTA) — Some 68,000 Israelis are expected this year to eschew Yom Kippur services in a traditional synagogue setting and gather at community centers for free, public holiday services.
"Praying Together on Yom Kippur" services will take place in 350 venues throughout the country, including cultural centers, school buildings and libraries. There will be 18 venues in Tel Aviv alone.
The annual program is organized by the Tzohar Rabbinical Organization, in partnership with Yachad Ohr Torah Stone. It is in its 20th year.
Participants are provided with a special Yom Kippur prayer book and detailed handout explaining the rituals and the meaning of the prayers that take place on the Day of Atonement. The service will include explanations, discussion and the shofar blowing at the conclusion of the holiday.
"Yom Kippur is a wonderful opportunity to take a break and disconnect from all the noise around us," said Rabbi David Stav, founder of Tzohar Rabbinical Organization.
"Yom Kippur is a special and holy day among the people of Israel, but there are Israelis who feel less comfortable in observing it in the synagogue for various reasons. On the other hand, research indicates that most Israelis seek to connect with their heritage and dedicate a place for tradition in their daily lives. Therefore, we offer the public the opportunity to pray in beautiful and comfortable locations with songs, experience and meaning. Judaism is considered the treasure of the nation of Israel; So, too, Yom Kippur and the rest of the holidays belong to everyone," Rabbi Kenneth Brander, president and Rosh HaYeshiva of Ohr Torah Stone Institutions, said in a statement.
BY MARCY OSTER 5,000-year-old metropolis discovered in northern IsraelOCTOBER 7, 2019 3:32 PM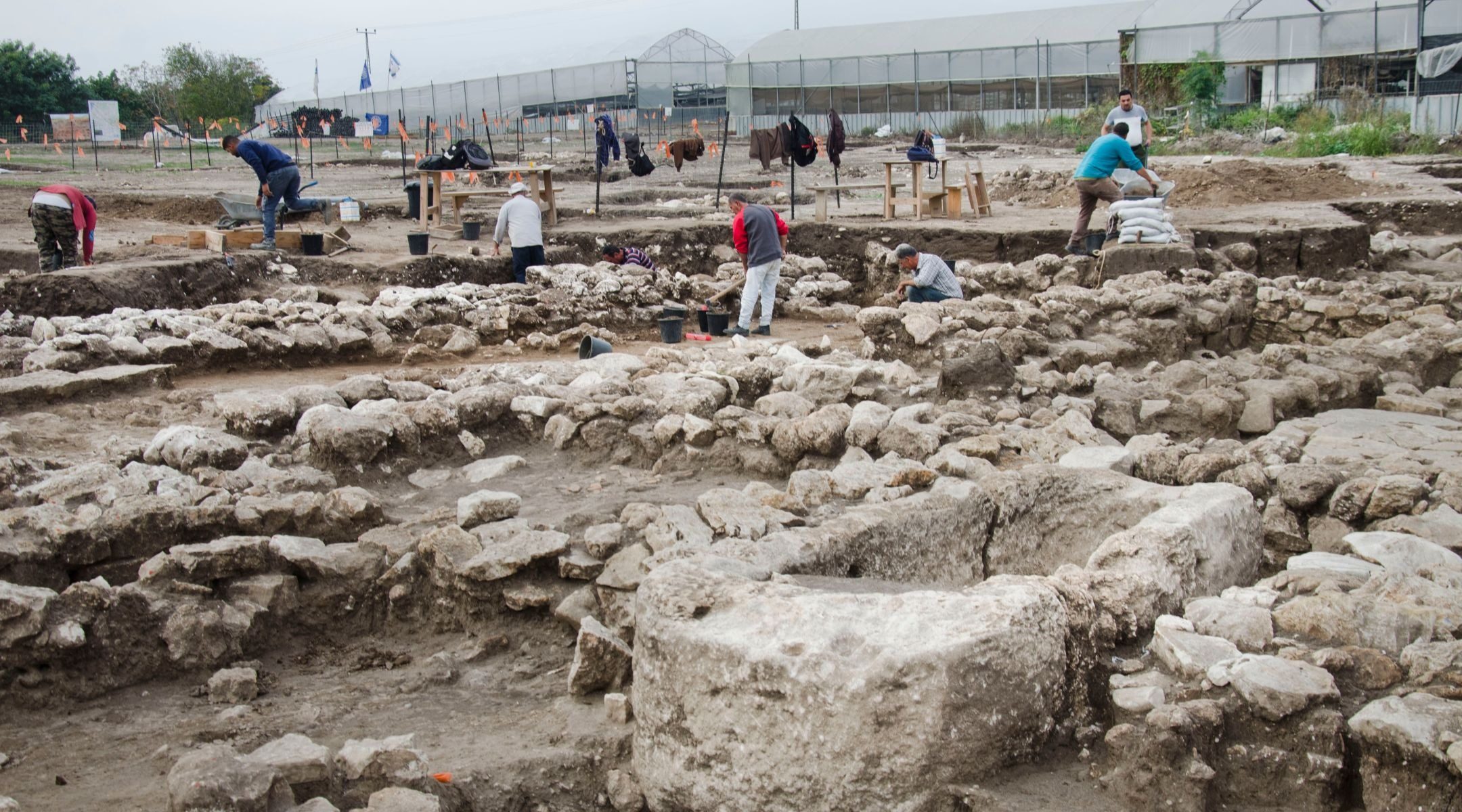 Excavations at the site of a 5,000-year-old Bronze Age metropolis in northern Israel (Yoli Schwartz/Israel Antiquities Authority)
JERUSALEM (JTA) — Archaeological excavations in northern Israel in preparation to build a highway off-ramp uncovered a 5,000-year-old city that was home to as many as 6,000 residents.
It is one of the first and largest early Bronze Age settlements excavated in Israel, according to the Israel Antiquities Authority, which announced the discovery on Sunday.
"This is the Early Bronze Age New York of our region; a cosmopolitan and planned city where thousands of inhabitants lived," Itai Elad, Yitzhak Paz and Dina Shalem, directors of the excavation, said in a statement.
The antiquities were discovered during massive excavations, initiated by Netivei Israel-the National Transport Infrastructure Company, which was carrying out groundwork for construction of an interchange road to the new Israeli city of Harish.
The excavations have been in progress for 2 1/2 years. Deeper excavations found that the ancient city was built over an even more ancient 7,000-year-old settlement.
The attraction for both settlements appears to be two abundant springs originating in the area in antiquity, according to the IAA.
About 5,000 teenagers and volunteers participated in the excavations as part of the authority's Sharing Heritage Project.
"There is no doubt that this site dramatically changes what we know about the character of the period and the beginning of urbanization in Israel," the excavation directors said.
The new interchange will be built high above the ruins, preserving it for future generations.
BY MARCY OSTER Police release knife-wielding man who crossed security barrier at Berlin synagogueOCTOBER 7, 2019 2:26 PM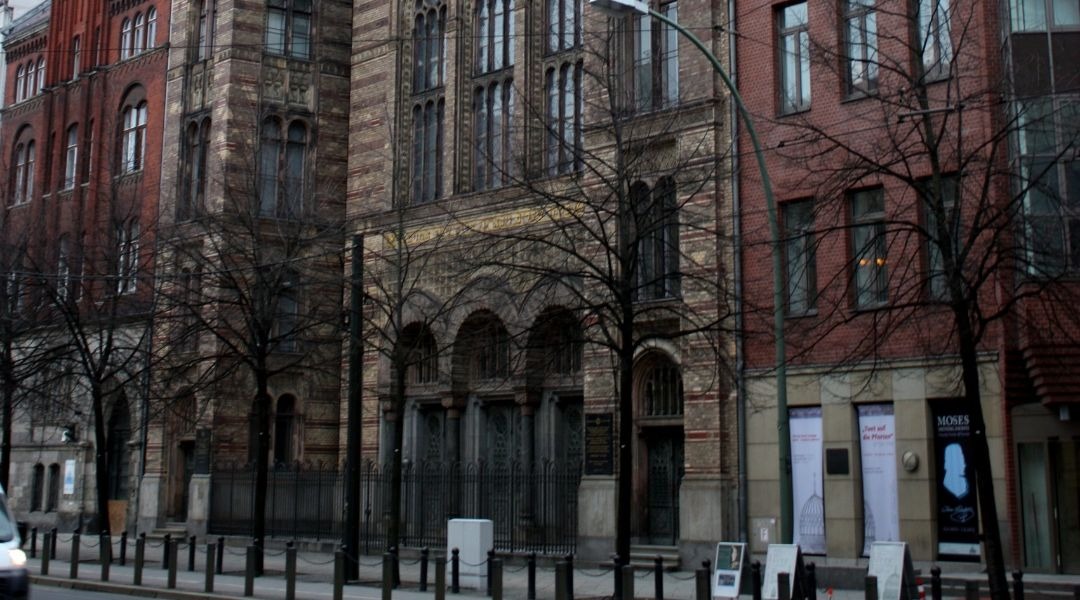 The historic Neue Synagogue iis located in central Berlin. (Wikimedia Commons)
(JTA)  — Police have released a knife-wielding Syrian refugee who had to be subdued by pepper spray by security guards outside a Berlin synagogue after he crossed its security barrier.
Investigators said they had to release the man, a 23-year-old from Damascus, because they did not have enough evidence to charge him with a crime at this point. The investigation is ongoing, according to the state Prosecutor's Office.
The response was woefully inadequate and even dangerous, Josef Schuster, head of the Central Council of Jews in Germany, said in a statement Monday. He said the violent nature of Friday's incident prior to Shabbat services at the historic Neue Synagogue should have merited a tougher response.
A "dangerous man" is now at large, he said.
According to a statement from the Prosecutor's Office, two security guards drew guns on the man, identified by police as Murad M., after he crossed the security barrier, but he did not respond to their order to drop his knife and continued mumbling in Arabic. Local mediareported that he said "God is great" in Arabic, a phrase often used by Arab terrorists.
Police subdued the man using pepper spray. He dropped the knife and was arrested.
The man has a residency permit ending in December 2020 and did not have a prior police record.
On Saturday morning, the man was released after a search of his apartment initially failed to turn up any evidence for a motive.
BY TOBY AXELROD Hundreds of etrogs held up at airport in England over new import regulationsOCTOBER 7, 2019 1:56 PM
The etrog is used for the Sukkot holiday. (Shutterstock)
(JTA) — Hundreds of etrogs, the citron fruit used for the holiday of Sukkot, were seized at an airport in England.
The Animal and Plant Health Agency held up the shipment at the Manchester Airport under new and stricter regulations on the import of citrus fruit. Etrog importers were unaware of the new rules, the London-based Jewish Chronicle reported.
The Board of Deputies of British Jews worked with the Department for the Environment, Food and Rural Affairs to have the 600 etrogs taken to a Manchester synagogue, where the stalks could be trimmed to meet the stricter rules, the Board of Deputies reported. The fruits also must be destroyed immediately after the holiday.
Some 10,000 etrogs were due to be imported to Britain for Sukkot this year.
Board of Deputies President Marie van der Zyl said the board's "timely intervention" has "potentially saved Sukkot."
"The waving of the lulav (palm branch) and etrog with hadas (myrtle) and arava (willow) is an essential and iconic part of the festival and it was vital to ensure the supply of etrogs for this year," she said in a statement.
Van der Zyl called on suppliers to "ensure that etrogs are imported in full compliance with regulations in the years ahead."
The shipmen was seized at the end of last month.
BY MARCY OSTER