Temple Mount Closure Proves Israel Can Change the Status Quo | Jordan Posts and Retracts Condemnation | Temple Mount Reopens | Terrorist Killed by SWAT Team | Guns & Roses | – July 16, 2017
.
July 16, 2017 / 22 Tammuz 5777
The Jewish Press Print Edition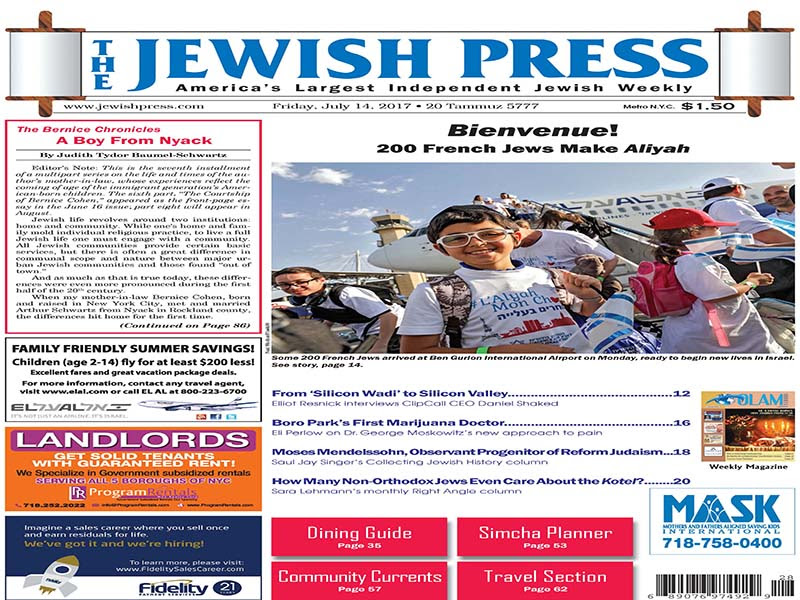 Your copy of
The Jewish Press
is now available for you to read online.
Temple Mount Terror Attack
The Yishai Fleisher Show
Killing In the Name Of…
Was Pinchas right in zealously killing the public exhibitionists? Can Joshua replace Moses as the great leader of Israel? Will the daughters of Zelaphchad, who yearned for the Land of Israel, give God consolation? Rabbi Mike Feuer joins Rabbi Yishai for the Torah portion of Pinchas and the next generation of Israel.
InDepth
The Left's Inversion of Anti-Semitism

Evelyn Gordon
Targeting people for being Jewish is no longer anti-Semitic, but targeting people for being progressive activists is. Thus instead of being a shield to protect Jews, charges of anti-Semitism have become a shield to protect leftists.
Blogs
Arabs Who Do Not Love Israel are Fools
Fred Maroun's Blogspot
Fred Maroun
Instead of insisting on the failed and inane strategy of fighting Israel, the Arab world should realize that working with Israel is the answer.
Shiloh Musings: Israel Should Just Leave The UN!
Shiloh Musings
Matt Solomon
An advantage of leaving the UN would be Israel banishing all those UN employees and those who work for organizations dedicated to besmirching, maligning and undermining the State of Israel. We'd be safer cutting all ties!