Trump Ducks Jerusalem Question ; Israeli Bus Falls Off Cliff ; Minister Kara Slaughters 68 Lambs for Israel ; Swiss Gov. Hiding BDS Accounts?
January 27, 2017 / 29 Tevet 5777
Shabbat Shalom!
The Jewish Press Print Edition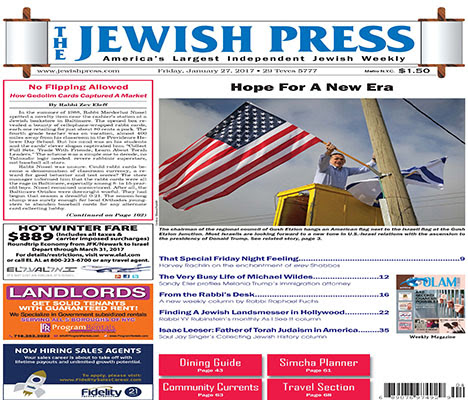 Your copy of
The Jewish Press
is now available for you to read online.
Headlines & Recommended
Trump Ducks Questions on PA Money, Embassy Move

David Israel
President Trump refused to provide conclusive answers on the two questions that could illustrate the difference between the Obama and Trump Administrations' decisions regarding Israel.
The Yishai Fleisher Show
Prosecuting David for Goliath Manslaughter
Rabbi Mike Feuer joins Rabbi Yishai for Spiritual Cafe where they discuss the plagues, God's promises to Moses for a successful process, and the merits and the faults of Shalom Aleichem's Fiddler on the Roof. Then, Malkah joins Yishai to discuss the David's Sling defense system, President Donald Trump's hold on transfer of money to terrorists, and the fate of Israel's soldier, Elor Azaria.
InDepth
Fear G-d, Not Men

Moshe Feiglin
Where there is no fear of G-d, there is murder. Fear of Heaven is the cure for all the shocking murders that plague us.
That Special Friday Night Feeling

Harvey Rachlin
What an incomparable joy it is, Shabbos eve. Marking the beginning of the Shabbos glories to come, it is rich with anticipation of the praying and learning and pleasures and relaxation ahead.
Jewish
Va'era: Did God Take Away Pharaoh's Free Will?

Rabbi David Fohrman
According to the simple meaning of the text, it seems God took Pharaoh's free will. Rabbi Fohrman argues that the precise language– kaved/chazek–shows that God DID allow Pharaoh to pursue his vision
Keeping It Simple

Rabbi Simcha Weinberg
Why did Pharaoh consistently ask Moses to pray for a plague to stop, rather than himself pray? Wouldn't that have been simpler?
The Cup Of Hope

Rabbi Lord Jonathan Sacks
Pesach represents the start of the great journey of Jewish history – from slavery to freedom, Egypt to the Promised Land.
Hearing The Cry Of Another

Rebbetzin Esther Jungreis
In these difficult days for Jews throughout the world, especially in Eretz Yisrael, we must sensitize ourselves to hear the silent cry of another's heart, then Hashem shall surely hear ours as well
Peeping Tom (Bava Batra 59a)

Raphael Grunfeld
There is nothing illegal about looking at other people just as there is nothing illegal with talking about other people.
Inaugural Introspection

Rabbi Raphael Fuchs
A phenomenon that allows this process to occur is the credence, admiration, and relevance that our culture affords to celebrities and athletes.
Loan Costs

Rabbi Meir Orlian
I'm not an expert in the laws of ribbis, replied Mr. Rubin, but we can check with Rabbi Dayan.
Following A Dream

Perel Cohen
With no other choice in sight, David continued along his path until he finished high school without having any substantial plans for his future in mind.
Q & A: A Missed Torah Reading (Part X)

Rabbi Yaakov Klass
Question: If a person was ill on Shabbos and unable to go to shul to hear Keri'at haTorah, must he have someone read it to him in shul upon his recovery? Sincerely, Isaac Greenberg
Daf Yomi

Rabbi Yaakov Klass
A Fundraisers Reward 'Those Who Persuade Others To Give Charity Are Greater' (Bava Basra 9a)
The Measure Of The Man

Rabbi Ben Tzion Shafier
Before each person is born, he is predestined to certain abilities and talents, a particular level of intelligence, and an exact disposition and temperament.